Has MediaTek divorced Xiaomi? Latest rumors claim so
16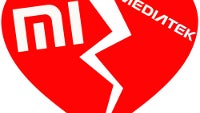 One of the fastest-growing smartphone manufacturers, China-based Xiaomi, already sees itself as the global leader on the
market in 5 to 10 years' time
. Without the shadow of a doubt, surpassing Apple and Samsung will be, by no means, an easy task, but the maker could have found just the right formula to do so - well-endowed devices that pack some respectable hardware insides and come with a relatively-affordable price tag. All is good, but will the formula still work if Xiaomi loses one of its larger hardware suppliers? As far as the rumor mill is concerned, we might find out relatively soon.
Recent rumors have it that MediaTek and Xiaomi might no longer work together, as the chipset maker has allegedly decided to renounce the collaboration agreements it had with the Apple of China and therefore cease to provide the phone maker with silicon chips for its lower-tier devices. The exact reason for this purported divorce are unclear at the moment. MediaTek has declined to comment on the matter, and Xiaomi's also kept mum on this purported major "divorce".
If this turns out to be true, there might be some major trouble in Xiaomi's paradise - the departure of MediaTek from its suppliers list could lead to some serious problems and hurt the manufacturing process of a significant portion of its mid-range and entry-level portfolio. If MediaTek and Xiaomi have indeed waved goodbye to each other, another notable chip maker, Qualcomm, might be a winner.
Xiaomi is already partnering with other chipset manufacturers, such as Nvidia (for the
MiPad
), the little-known Xiaolong (responsible for the chip inside the Mi 2A, and
Leadcore
, another not-so-popular silicon maker.