Hard work: these are the top 4 best productivity tablets
51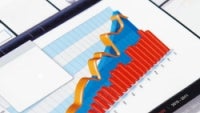 In the past year or so, numerous reports from top-ranking market research firms have suggested that the tablet market is slowly but surely shrinking in terms of raw volume. However, this doesn't mean that the tablet form factor is dead. Instead, reports point out that the tablet industry is heading towards a polarization.
In other words, manufacturers may sell fewer tablets by number, but the tablets that they do sell - and
will
sell in the future - are now oriented towards solving specific tasks.
While tablets oriented at media consumption still make up a large portion of the tablet market, productivity tablets appear to be on the rise, a notion that was recently reinforced by the fact that even Apple launched a productivity tablet of its own. With this in mind, let's take the time to discuss the top 5 best productivity tablets currently available on the market.
In just a few years, the Microsoft Surface Pro line-up has evolved from an odd and commercially unsuccessful tablet series into one of the best selling tablet series currently on the market.
The fourth incarnation in the series, the Microsoft Surface Pro 4, is probably the best all-around productivity tablet currently available. Running on the full version of Windows 10, the Surface Pro 4 has the number-crunching power of a modern laptop - as well as its full OS capabilities and app compatibility - but can also be used as a large tablet.
The display is a 12.3-inch panel running at a resolution of and an aspect ratio of 2:3. Many users found that this aspect ratio is a perfect balance between media consumption and productivity work. Depending on the exact model, the processing power is served by an Intel Core m3, i5, or i7 processor from Intel's Skylake series, all of which are full-blown laptop-class CPUs. Other raw specs include 4,8, or 16GB of RAM, and 64, 128, 256, 512, or 1024GB of SSD storage space.
The Surface Pro 4 also comes with an updated Surface Pen, a stylus that is able to recognize up to 1024 different levels of pressure. Pair this pen up with the huge levels of processing power and the Windows 10 operating system, and you've got yourself a perfect tablet for Photoshop users.
If your work requires the use of a physical keyboard, the Surface Pro 4 Type Cover becomes a necessity. The Type Cover is thinner and lighter than that of the Surface Pro 3, comes with backlit keys, and also features an optional fingerprint scanner for extra security. This keyboard accessory - which comes with backlit keys - is priced at either $129.99 or $159.99 depending on whether the fingerprint scanner is included or not.
Prices start at $899 for the version with an Intel Core m3 CPU, 4GB of RAM, and 64GB of integrated storage space. The full-blown version of the Surface Pro 4, which is equipped with an Intel Core i7 CPU, 16GB of RAM, and 1024GB of SSD storage space is priced at a whopping $2699, but do bear in mind that this level of processing power and internal storage space is extreme even for modern laptops.
The iPad Pro, recently launched by Apple after months of leaks and rumors, is certainly the best iPad for productivity work, but this doesn't say much on its own.
The display is a 12.9-inch IPS panel with a resolution of 2048 by 2732 pixels at an aspect ratio of 4:3. Many have found issues with using such a large display with a 4:3 aspect ratio but others claim that there is added benefit to be found in the extra screen real estate.
On the inside, the Apple iPad Pro is powered by an Apple A9X chipset, one that integrates a dual-core 2.26GH Twister CPU. In terms of raw number-crunching abilities, the Apple A9X is faster than your usual tablet CPU, and can actually compete with the Intel Core i5 CPU inside the Microsoft Surface Pro 4 in Geekbench scores. Paired with 4GB of RAM, the Apple A9X has absolutely no problem in running iOS apps.
Unfortunately, the major disadvantage of the Apple iPad Pro is the fact that it runs on iOS. Compared to Windows 10, iOS is not as capable at facilitating productivity work. While you can use Microsoft's Office suite on iOS, many of the apps you use for work purposes are missing from the platform.
The Apple Pencil, which is the stylus accessory that you can use for precision input on the Apple iPad Pro, was well received by digital artists. Unfortunately, the Apple Pen is priced at a costly $99. Furthermore, the Apple Pencil is currently not available for purchase, and stocks are not estimated to replenish until January next year. The same 4-5 shipping estimate is currently shown for the Smart Keyboard, the optional accessory that will set you back an extra $169.
For a large iPad with only limited productivity-centric features, the Apple iPad Pro is quite costly. The base model, which comes with 32GB of integrated storage space is priced at $799. $949 gets you the 128GB Wi-Fi-only model, while the 128GB cellular-enabled version is priced at $1079.
Since both of its arch rivals - Microsoft and Apple - are now involved in the productivity tablet sector, Google couldn't miss out on all the fun and has announced a productivity tablet of its own. The upcoming Google Pixel C is a very interesting tablet, although it probably won't be any sort of true competitor for the Microsoft Surface Pro 4 when it comes to actually getting work done.
The raw specs are some of the most impressive we've ever seen on an Android tablet: a 10.2-inch display with a resolution of 2560 by 1800 pixels, the console-class Nvidia Tegra X1 chipset, 3GB of RAM, either 32GB or 64GB of RAM, as well as an optional Bluetooth wireless keyboard that can be used to transform the device into an Android-powered notebook.
Since we're on the subject, it should be noted that we're not expecting the Pixel C to replace our laptops just yet, and this has to do with the fact that Android is really not the best suited operating system for productivity work. Sure, you can get some work done on Android thanks to the wide range of apps available for the OS, but professionals show little love to mobile operating systems since these are oriented more at consumption, not creation.
Google has yet to officially launch the Pixel C. As such, a more detailed analysis of the tablet is not possible for the time being.
Compared to the devices that we've previously mentioned, the Microsoft Surface Book is less of a tablet and more of a laptop that can double up as a tablet, which is the reverse principle of the Surface Pro 4 or the Apple iPad Pro. Despite this subtle but notable difference, however, the Surface Book is the perfect device if you favour productivity but still want to be able to get some of a tablet's portability.
The notebook-class specs of the Microsoft Surface Book include a 13.5-inch display running at 3000 x 2000 pixels, Intel Core i5 or i7 processors from the Skylake generation, optional dedicated Nvidia GeForce GPUs, 8GB or 16GB of RAM, and up to 1TB of SSD storage. These are specs that can seriously rival most notebooks currently out there, but the Surface Book comes with the unique feature of a detachable display.
The major downside of the Microsoft Surface Book is its price. The entry-level model (if one can call it so), which lacks the dedicated Nvidia GPU but comes with an Intel Core i5 CPU, 8GB of RAM, and 128GB of integrated storage space is priced at $1499. The high-end model, which comes with an Intel Core i7 CPU, a dedicated GPU, 16GB of RAM, and 1TB of SSD storage is priced at $3199, which is probably ten times more than most people are willing to spend on a tablet.