Hangouts with SMS support starts rolling out through Google Play, iOS gets minor update
26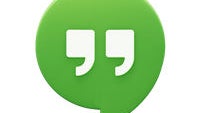 One of the more anticipated updates has been SMS support coming to the Hangouts app. Google
announced the update
a few days before the Nexus 5 went on sale and Android 4.4 was announced. The Nexus 5 has been the first device to have the updated app, but it looks like the rollout of the update has begun in Google Play.
The official change log for the app mentions a few updates that will be coming to all Android devices running 2.3 Gingerbread and higher. On that side will be the support for animated GIF sharing, location sharing, and new status options. Users will now be able to share what device you're on, whether you're on a call, or your current mood. The app should also include bug fixes for crashing video chats.
But, the updates that many users want are support for SMS and MMS, but those features will only be available on devices running Android 4.0 Ice Cream Sandwich and higher. Once you get the update, you'll be able to import all of your messages to the app and start group MMS conversations. One thing to note is that Hangouts, unlike iMessage, keeps SMS and IM chats separate, so you'll have to make sure you're using the service you want when messaging someone.
The iOS version of Hangouts has also been updated, but the only update it gets are the new status messages. It doens't have the SMS, GIF, or location features.
If you want to get in on the action a bit faster, there are APK download links at the source, or you can just wait for the update to roll out to your device.
Recommended Stories