Hands-on with the first Ubuntu phone: Say hello to the bq Aquaris 4.5 Ubuntu Edition
11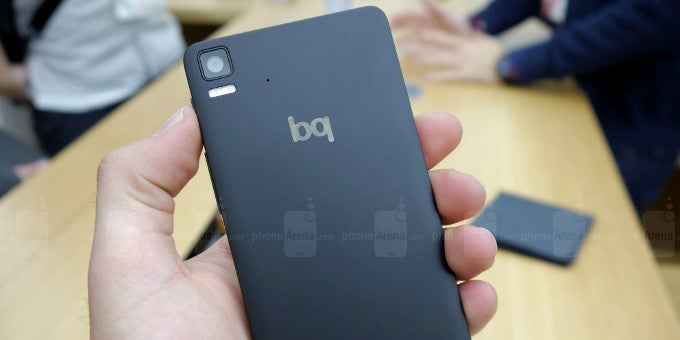 We've been talking for years now about Ubuntu coming to mobile devices, and it seems that in 2015, we're finally starting to see the first devices running on the mobile operating system developed by Canonical. At MWC 2015, we spotted several new devices running Ubuntu, and one of them - claiming to be among the first to run the new platform - is the bq Aquaris 4.5 Ubuntu Edition.
As you can probably tell by the little known brand name, BQ is a regional brand that makes its Ubuntu debut in a number of markets in Europe (it is also available in India). With no further ado, here are our hands-on impressions of the new bq Aquaris 4.5.
Design and display
It's hard to find anything particularly inspiring in the design of the bq Aquaris 4.5 Ubuntu edition. It's an affordable device, and you can tell - the styling is generic, the material is soft touch plastic with no fancy coating of any sort, and it is just a utilitarian 'phone phone'. It's also not among the thinnest out there, but on a positive note, it's fairly lightweight. The exact dimensions are 137 x 67 x 9 mm, and the weight stands at merely 123 grams.
The phone features a 4.5-inch display with a resolution of a 540 x 960 pixels (qHD). Some noticeable pixelization is there, and the display features colors that look a bit washed out. Instead of Corning's Gorilla Glass, we have Dragontrail's similar toughened glass solution.
Interface: Ubuntu
Mobile Ubuntu is all about swipes for navigation
Ubuntu is the real highlight here, though: the new platform tries to bring all your activity in a single hub without needing to open and close apps as you'd do traditionally, but rather have everything within easy reach. The interface is filled with gesture controls: swipe from the left to go into the launcher, swipe from the right to reveal running apps. Notifications are shown with a swipe down from the top (as on Android and the rest), and finally a swipe up from the bottom to get more controls. These are all good ideas, but it is the low number of applications available that is the big problem with the platform. Some basic ones like Twitter are here, but others are completely missing. We also noticed a slight lag here and there that spoiled the experience a bit.
Performance, Connectivity and Memory
Being an affordable phone, the bq Aquaris is powered by a humble MediaTek quad-core processor with four Cortex A7 CPU cores running at up to 1.3GHz, and along with 1GB of RAM. This covers the sanitary minimum, but hardly much more.
In terms of connectivity, you only have 3G, while memory stands at 8GB, expandable via microSD cards of up to 32GB.
Camera
The main camera here features an 8-megapixel sensor and it does auto focus. It features dual LED flash and is capable of recording 1080p (Full HD) video. On top of the 8-megapixel BSI sensor is a what bq calls a 'high-quality Largan lens'. Up front, we have a 5-megapixel selfie camera, and having such high-res camera in an affordable phone is a worthy feature.
Expectations
All in all, we were curious to take a look at this first phone with the Ubuntu platform. It's an interesting interface with heavy support for gestures and a main 'today' panel that aims to summarize all the important information and apps into one screen. The platform, however, does deserve more potent hardware to showcase its capabilities. It seems that the Android market is way too competitive to allow for the BQ Aquaris to make a dent, and even if it did, we also have even more affordable Windows Phone handsets that really make it an uphill battle for Ubuntu. We, however, like to cheer for the underdog, and we'll keep our fingers crossed that the platform continues evolving and gets better hardware in the future. What about you?