Hands-on with the Samsung Galaxy Spica i5700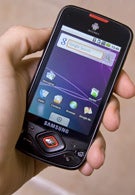 Samsung released their first Android handset, the Samsung Galaxy i7500 at the beginning of the summer. Last week the manufacturer announced their second cell phone running the popular Google-made operating system and now we´ve got the
Samsung Galaxy Spica i5700
in our hands…
At first, the Galaxy Spica got known under the rather unimaginative name the Galaxy Lite. It made us think the cell phone would be a light-weight version of the original
Galaxy
. The official announcement, however, changed everything. The only weak point of the new handset seems to be its 3.2-megapixel camera, a step back from the Galaxy and its 5-megapixel sensor. The secret weapon of the youngster is, however, well hidden under the hood. The 800 MHz processor makes the device the fastest Android-based cell phone to date.
In terms of overall design, the Samsung Galaxy Spica i5700 remains true to the spirit of its predecessor, the Galaxy, but comes with a more youthful appearance. What we have in our hands is the black-red version that looks less extravagant alongside of the white-green color one, although the appealing red elements give the phone a less austere and more upbeat overall appeal. One of the first thing you´ll notice is the phone is less shiny that the original Galaxy. The keys on the front side are aligned differently, but you still have a D-Pad. There is a button with a small globe on it that is as a shortcut to the search function. The 3.2-inch AMOLED screen utilising capacitive technology is virtually the same... and its love of fingerprints is just as obvious as ever.

The operating system running on the Galaxy Spica is Android 1.5, but we hope the manufacturer will release an update to version 1.6 shortly. A quick look at the interface of the handset reveals the OS has not been personalized... just like the Galaxy. The difference is the Galaxy Spica plays DivX and Xvid videos and comes with a better phone Gallery that filters available content by relevant file type. We will tell you everything about the feature and other interesting aspects of the Galaxy Spica in our upcoming review, so stay tuned!

Stick around and visit our website on regular to find out more about what´s going on in the fascinating cell phone world.