Hands on with the RIM BlackBerry Bold 9700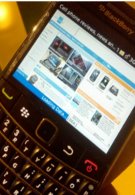 RIM held a special event in the heart of New York City to unveil their latest premier smartphone – the BlackBerry Bold 9700. Lights were dimmed to place the attention on all the demo handsets littered around the room. Let's think back to how the original BlackBerry Bold on AT&T set the precedence of how all future BlackBerry devices were going to be designed and what the interface should look. Sure it was AT&T's first 3G BlackBerry, but the revamped design made it strikingly unique which all future devices adopted. In addition, RIM ditched the old mundane interface found on their last generation devices and chipped away at an overhaul that looked a bit more up-to-date. Now fast forward and almost each BlackBerry handset seemingly tops the previous one in some form. Since the Bold's original launch, we have seen RIM venture out to and create an untraditional BlackBerry in the form of the Storm. By now, we all know that RIM learned their lesson with that one and really nailed it to a tooth finally with the Storm2.
In the short time we were able to check out this device, the Bold 9700 took everything we loved about the original and miniaturized it. This is by far the sleekest, lightest, and most beautiful BlackBerry devices we've seen to hit the market. We can say that the original Bold was one of the larger handsets we've seen from RIM, but they took everything back to the board and designed something that was extremely compact – all the while preserving the industrial look it's known for. You get treated to version 5.0 right out of the box and it remains to look and feel the same as we've seen previously. So far we're a bit impressed at how the BlackBerry Bold 9700 is turning out – expect out in-depth review soon!
RIM BlackBerry Bold 9700 Preliminary Specifications