Hands on with the Motorola DROID and some of its optional accessories
38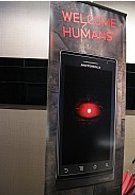 We've managed to get a sneak peak at the Android powered handset and got our first hand taste of what to expect with Motorola's latest smart phone. There's a lot of expectations with this one, especially when it's already been hype as being probably Motorola's saving grace – bringing back the once venerable company to its former glory. We have to admit from just getting our hands on it that it's built quite well with a feeling of quality workmanship from Motorola. The solid metallic feel is a welcomed sight with the soft matte rear finish complimenting the phone well. This form factor they've decided to go with isn't the traditional one we've seen in the past from them, but it's new design is a refreshing sight to behold.
Undoubtedly its the first phone to feature Android 2.0 and we hope to put it through its paces to see how this latest version stands up. So far, we just notice a little bit of lag from just moving between the home screen, but the smooth typing experience using the virtual QWERTY is a definite improvement. There's some new applications that the DROID will prominently feature out of the box – specifically Google Maps Navigation.
Finally, there will be a couple of accessories expected to launch with the release the phone to compliment some of the specific aspects of the phone. GPS users will be pleased to know that a dash mount will offered to give the phone that standalone GPS feel. Surpsingly the unit will automatically switch to the GPS mode of the phone when connected to the accessory – we're still scratching our heads as to how the phone recognizes it because the mount was just one piece of plastic. Nonethless, we're sure that it'll find its niche out there – especially when Google Maps Navigation is offered for free without any monthly subscriptions. There's even a charging stand which doubles as an alarm clock that will display useful information such as weather and time while it's connected. Both are expected to be available for under $30 each from what we were told – so it won't break you in the bank. We'll see if Motorola has an ace up its sleeve in the form of the DROID – one thing we know for sure is that this will mark the beginning of the Android explosion. Enjoy the shots from the event and expect our in-depth review soon!