Hands-on Preview of the LG enV Touch and enV3
25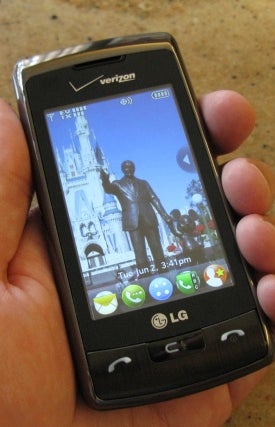 Today we received the new LG
enV Touch
(VX11000) and
enV3
(VX9200). As most of you know the enV3 is an update to the enV2 and the enV Touch is an update to the Voyager.
The
enV Touch
is much improved over the
Voyager
, but still has the similar clamshell form-factor with internal QWERTY keyboard. Both displays are now 3" diagonal, with
WVGA 480x800 resolution
and support up to 1.6 million colors. You can really see the difference. Naturally, the external display is touch-sensitive, but seems to require more pressure than the LG
Versa
, about the same amount as the
Dare
.
Along the bottom of the external display are icons for Messaging, Dial Pad, Main Menu, Contacts, and Favorites. There is also an arrow on the right side that links to Shortcuts and My Media. Within it, you can can customize what shortcuts you want, as well as
drag them to the desktop for 1-click access
. Unfortunately, only two themes are include: Modern Retro (which looks like postage stamps) and Blue Inspiration.
The
QWERTY keyboard
has also undergone a few changes, and now has a single space key in the middle, instead of two on either side. The keyboard buttons also more curved around the edges and the d-pad is slightly larger. The
camera is now up to 3MP
and features auto focus, LED flash, and a Schneider Kreuznach lens.
Meanwhile, the
enV3
looks less like a calculator than the
enV2
and is offered in two colors:
Slate Blue
(pictured) and
Maroon
. We mustsay the Slate Blue looks nice, even though we haven't seen the Maroonin-person. The first thing you will notice is the
external display is slightly larger
and there is a real d-pad this time around. Because of this, you have external access tocontacts, messaging, recent calls, pictures, music, and bluetooth. You still have to open the phone and use the internal main menu for the rest of the functions.
The QWERTY keyboard follows the same styling and layout as the enV Touch, but is more compact. The internal display is now larger than the enV2 at 2.8" but is still QVGA resolution. The camera is also
updated to 3MP with flash
, but it lack the auto focus that is on the enV Touch.
Pictures from the enV Touch
:
Pictures from the enV3
: