Hacker leaks ten stolen episodes of "Orange is the New Black" after Netflix fails to pay for them
32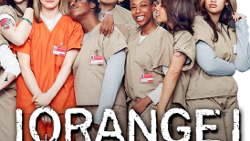 Part of Netflix's success on the mobile front is its ability to come up with original shows. The streaming video site drops a whole season's worth of shows at one time which you can view anywhere thanks to the mobile app. But the digital world we live in isn't all puppy dogs and rainbows. A hacker recently stole unreleased episodes of Netflix's original comedy hit "Orange is the New Black," which takes place in a woman's prison."
After unsuccessfully getting Netflix to bite on his monetary demands, the hacker reportedly released the first ten episodes of the comedy series' fifth season. The shows appeared just before 6am EDT this morning as 10 files totaling 11.64GB was discovered on file-sharing service The Pirate Bay. The complete season of shows was scheduled to be released by Netflix on June 9th, but there is talk that the video streamer will move up the date in light of the hacker's actions.
The hacker also claims to have stolen unreleased content from ABC, Fox, National Geographic and IFC that was obtained illegally after a computer attack on Larson Studios back in late 2016. The latter handles post-production tasks for certain shows. In a message sent from the hacker today, he/she claims that his demands to Netflix were modest compared to the amount of money that Netflix will lose. He also warned other networks that previously made offers are "still on the table-for now."
"It didn't have to be this way, Netflix. You're going to lose a lot more money in all of this than what our modest offer was. We're quite ashamed to breathe the same air as you. We figured a pragmatic business such as yourselves would see and understand the benefits of cooperating with a reasonable and merciful entity like ourselves. And to the others: there's still time to save yourselves. Our offer(s) are still on the table — for now.-"Message from hacker who stole 10 episodes of Orange is the New Black"
As for Orange is the New Black, the show has already been renewed for the next two years. The fifth season is comprised of 13 episodes, three of which were not available when the cybertheft took place.
source:
Variety