HTML5 support on the new Symbian Anna falls short
8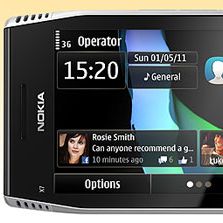 While Nokia is in the midst of a transition to the Windows Phone 7 OS, they are still hard at work on updates for their Symbian OS. The new
Symbian 'Anna'
is the next version of Symbian^3, coming to the N8 and E7, as well as the upcoming
X7
and
E6
. But early testing isn't showing very impressive results.
Maximiliano Firtman, a respected developer, had the opportunity to put the new Symbian Anna through its paces. On the plus side, he points out the new features of the Anna browser, including multi-window browsing, and enhanced CSS3 support for gradients, 2D transformations, transitions, animations, and media queries. Overall, Firtman says
the browser is indeed faster
.
But when it comes to HTML5, which has become essential to browsing, Firtman was disappointed.
Symbian Anna's HTML5 support excluded Viewport support, audio/video tag support, offline storage cache, a geolocation API, and an accelerometer API
.
Of course you can use Flash on Symbian Anna, so it's not the end of the world. But Nokia customers shouldn't be made to feel completely neglected, now that Nokia's moving on.
source:
Mobile Web Programming
via
Symbian Freak