HTC's Boost+ app promises to optimize any Android device, lands April 14th in the Play Store
16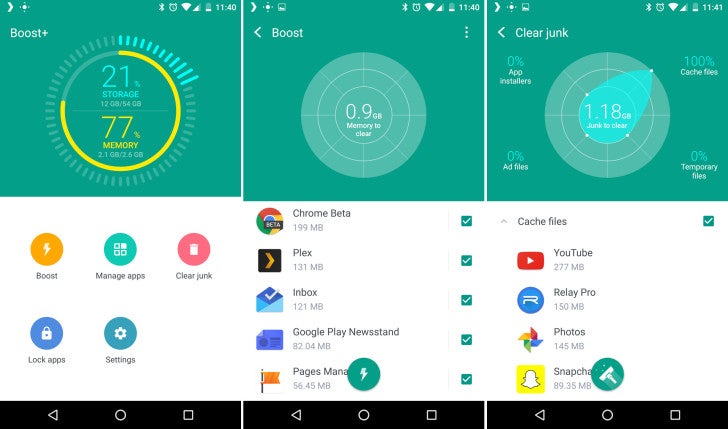 Although the new
HTC 10
is clearly stealing the spotlight at the moment, HTC's new flagship smartphone isn't the only new product that HTC unveiled at its special event earlier today. To go along with the HTC 10, the company has also unveiled the HTC Boost+, an app that's marketed as the perfect way of optimizing and decluttering your Android device. Yep, you've read that right: HTC's new app is compatible with all Android devices running at least Android 5.0 Lollipop.
The HTC Boost+ app is essentially an enhanced memory cleaner app. Like most apps in this category, Boost+ will remove unnecessary data from the internal storage. Included here are cache files, temporary files, app installers, and even advertising trackers. Furthermore, HTC Boost+ also comes with a "smart boost" feature that frees up RAM memory in an attempt to, well, boost performance.
Unfortunately, all signs point out that RAM cleaner apps don't really improve the overall performance of Android devices, meaning that we'll reserve further judgment on this feature until we get the chance to test out the app for ourselves.
So far, HTC Boost+ doesn't appear to be a very interesting app. However, going beyond the memory cleaning features, the app also boasts some intriguing privacy and app management features. For one, Boost+ can lock specific apps behind a passcode or a fingerprint, which can turn out to be incredibly useful if you want to keep your social media profiles hidden from prying eyes.
Boost+ can notify you when it detects that you're not using certain apps. If you're the type of user that often installs apps and then forgets about them, then this HTC Boost+ feature is a way of managing storage space waste.
Another notable feature is a dashboard that displays information on available storage space and your device's RAM consumption.
HTC said that Boost+ will launch in the Google Play Store on April 14. As previously mentioned, the app will be compatible with all devices running Android 5.0 Lollipop or newer, not just HTC devices.
What do you guys think of the HTC Boost+ app? Will you be testing out the privacy and app management features when the app lands in a couple of days?