HTC wants you to have a phone for your smartphone
47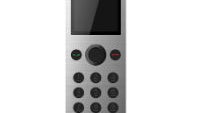 You know what's really annoying? Having to use your smartphone as an actual phone. That really takes valuable time away from surfing the web, checking through various social networks, and of course playing games. Sure, you could use a Bluetooth headset, but HTC has a better idea: why not have a phone for your smartphone?
This is not a joke. HTC has just announced the HTC Mini+, which is a Bluetooth phone for your phone. Of course, if all the Mini+ did was act as a Bluetooth handset, it would be pretty silly, so HTC has also added in some nice extra features. The device will give you notifications for texts, events, and emails. It can also remotely control your device's camera, although we're not sure how useful that would really be. Additionally, the Mini+ can act as a TV remote, and it can control multimedia streaming through your HTC Media Link HD. And, just in case all that isn't enough, it also has a built-in laser pointer and slideshow remote options.
HTC says the Mini+ will get 9 hours of talk time. One surprise is that the compatibility is fairly limited, as it will only work with the HTC One mini, HTC Butterfly S, HTC Desire 200, and HTC Desire 500.
That's right, this thing doesn't even work with HTC's flagship One
. Never mind that, a reader just let us know that the HTC One got an update to add support for the Mini+. If you're still interested, the HTC Mini+ will set you back $50.