HTC unveils VR research center worth $1.5 billion, denies selling the phone business
3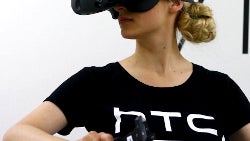 HTC, in partnership with the Shenzhen Municipal Government, has announced a groundbreaking China VR Research Institute. The R&D investment is worth $1.5 billion, which is pretty staggering for the current state of the company, so we'd wager to bet that most of the financing has come from the Chinese side.
The VR science shop will not only work on consumer applications like the
HTC Vive
head gear, but also explore opportunities to leverage virtual reality in healthcare, business, government, military and various industrial applications. According to the HTC chairwoman Cher Wang, the investment fund will "
accelerate the development of the VR industry in Shenzhen and elevate the city's R&D capabilities
," and these are nothing to sniff at already.
One would be forgiven then to believe the rumor coming from various Taiwanese sources over the weekend that HTC is planning to divest of its smartphone business. The nascent VR industry is a whole new trajectory for HTC, and the company is doing very well there with its Vive contraption, while the phone sales
aren't really a pot of gold
, even with the
Pixel phones allegedly getting build by HTC
. The company issued a boilerplate rebuttal on the matter, though, trying to squash the rumor that HTC has lined up some interested buyers, and will be announcing a sell of its phone division by the spring.
Recommended Stories