HTC tells the design story of the One
37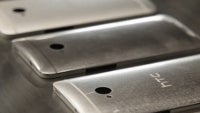 The
HTC One
is - hands down - one of the best looking Android devices out there. Made out of a single piece of aluminum with a slightly curved back it is one step above the Samsung Galaxy S4 and other uninspiring plastic Android phones.
Yet even Samsung dared release its own promo vid telling us all about the benefits of plastic in the Galaxy S4 and speaking about its design approach. And now it's HTC's turn. The company has just released the design story behind the One and it's an exciting look at the diamond cutters, electro-chemical etching and all the complexities that went into making the beautifully simple
"zero-gap"

construction
on the HTC One.
It details everything about the phone - starting from the one piece of aluminum and how it gets formed into a phone-like shape down to the chamfered edges. Take a look below.
source:
HTC America