HTC pokes fun at Samsung and Apple in this "Cellami" ad, says the One M9 is "the best"
68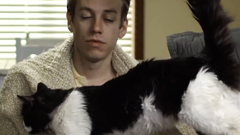 HTC just released an interesting video ad that tries to poke fun at two of its rivals, which happen to be leading the global smartphone market: Samsung and Apple. The ad suggests that some smartphone users may be struggling with fictional diseases that HTC is calling "Bi-phonal Displeasure Disorder", "SAD (Samsung Affective Disorder)", and "iOS (Irritable Operating System)." Funny, right?
These fictional diseases have a cure that's also fictional: a medicine called Cellami (aka metalidone boomsoundide), which has unpleasant side effects like "permanent thumb loss", "blue teeth" and "oily plastic discharges."
Luckily, HTC is happy to say that you "do not need Cellami at all" if you own an
HTC One M9
. That's because, as HTC puts it, "your phone is the best." Of course,
the best phone
is a subjective term, and while a handset (the One M9, the Galaxy S6, the iPhone 6, etc) might indeed be the best for some, it won't really be a great match for others.
Check out the new HTC ad below, and, if you want, also check out a few
HTC One M9 vs. Samsung Galaxy S6
photos, plus some
HTC One M9 vs. iPhone 6
images.