HTC ThunderBolt vs Motorola DROID X web browsing times
32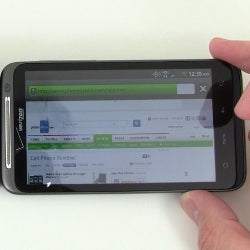 In our fourth video, we decided to test the browser speed on the HTC ThunderBolt, and compare that next to the Motorola DROID X.
Here, we noticed something interesting. Even though web pages started to load faster on the ThunderBolt, they finished at about the same time on it and on the DROID X. We tried several page loads, and both were only within a second or two of each other.
So it appears that even though the 4G LTE network is capable of faster download speeds (as shown in our
speed test video
) the web browser on the ThunderBolt is finishing to load pages at about the same speed at the DROID X.
We will continue to test the browser speed on the ThunderBolt over the next few days and will update if there are any changes.
UPDATE:
As some of you have commented below, the DROID X did load a few pages slightly faster than the ThunderBolt, but the reason we believe this happened is because our DROID X is rooted and has a program installed for it not to load web-page banner ads that are Flash based. The ThunderBolt is not rooted and will load all Flash ads, so that is why some pages on it took slightly longer to load. But for a stock DROID X that isn't rooted and will load all Flash content (including ads) the ThunderBolt should be a bit faster. We have also noticed that downloading apps from the Android Market are also much faster on the ThunderBolt than the DROID X, as well as connecting to Google Maps, VCast Video, and file attachment downloads.
UPDATE 2:
Guys, sorry about forgetting to un-root the DROID X first. We have done this now so it will load all flash files and web ads. The ThunderBolt is taking 22 seconds to fully load the PhoneArena.com home page, while the DROID X is taking 45 seconds. We will have a new full video review of the ThunderBolt up that will show this.
***VIDEO UPDATE***
Here is our latest video, in which we have the DROID X back to stock (un-rooted). As you can see, the ThunderBolt does load web pages faster.