HTC One used for video call...from the summit of Mount Everest
18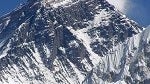 HTC is doing everything it can to be literally at the top of every list. It accomplished that in a way when British explorer Daniel Hughes reached the summit of Mount Everest as part of a campaign to raise £1 million for the charity Comic Relief.
As it happens, HTC was also a sponsor of Hughes' campaign at Mt. Everest and he brought a large load of technology with him to aid in his endeavor.
While the
HTC One
is well made and has an aluminum build to it, one might not think of it as the most sturdy device out there. To that end, Hughes brought two of them to the summit. Once he was there, he pointed his Cobham Explorer BGAN satellite dish to establish a video call with BBC via Inmarsat's 384kbps streaming service.
Hughes also set a goal of putting the first Red Nose on Everest. Red Nose day is a project of Comic Relief and aims to bring a laugh and change lives for people in Africa and the UK. If you are interested in supporting Hughes' campaign,
check out his JustGiving page here.
He is hoping for £1 million from 1 million people. He is only 4% of the way toward his goal and needs all the support he can get.
We embedded Hughes' hi-tech base camp video below.
Click here if you want to see the video call with the BBC
from yesterday.
source:
CNET UK