HTC One mini hands-on
39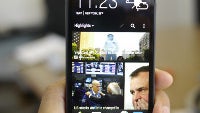 Introduction:
There was a time when we craved larger versions of certain smartphones, but it's funny how things have turned out. Nowadays, we have all of these monster sized smartphones that keep pushing the envelope on how large of a display they can somehow magically fit into a tight spot. Strange to say, consumers have the complete opposite mentality on what they now desire, as "
mini
" versions have seemingly become the coveted thing with today's popular flagship devices.
Proving itself to be one mainstream hit in the industry, the
HTC One
is the latest beloved smartphone to receive the "
mini
" treatment. Spending some quality time on an upcoming product, the aptly named
HTC One mini
intends to replicate its elder's popularity, but this time, it's going to be in a
smaller package
– fittingly enough. Naturally, we're curious about this more pocket-friendly version of the venerable device, so let's take a closer look to see what this small bundle of joy is packing.
Display:
Being a smaller version and all, the HTC One mini is obviously sporting a smaller sized display – a
4.3-inch Super LCD-3 display
to be exact. It's kind of strange coming back to a 4.3-inch screen, especially when we've been so used to displays that are significantly bigger. Regardless of that, it's worth mentioning that the resolution has been notched down to
720p
, which is down from the 1080p in use with the original model. Looking at the numbers, pixel density jumps down just a tiny bit to
342 ppi
, but honestly, it's still just as detailed. At the same time, the other qualities of the display are intact this time around too – like its modest brightness output, natural color reproduction, and good viewing angles. Certainly not as imposing when compared to the HTC One's display, this is still one sharp looking thing that undoubtedly adds to the handset's appeal.
Design:
Matching its bigger brother to the tooth, well, size aside, the HTC One mini
employs the same characteristic design
that makes the original so darn iconic. From its chamfered beveled edges, to its aluminum cladded chassis, it's one
fine and solid feeling piece of hardware
that doesn't make any compromises whatsoever. Best part of it all, it's now more pocket-friendly than ever before, as its dimensions measure in at 132 x 63.2 x 9.25mm. Available in both black and silver, it's able to maintain a very clean looking appearance, which in turn, seems to do a decent job at repelling smudges and fingerprints. Overall, there aren't any surprises whatsoever with this one, seeing that it simply replicated the fabulous design we all know and love.
If we take a look around the handset, it's quite clear everything from before is back again with this, right? Well, that's pretty true for the most part. As much as we appreciate the more distinct feeling power button, it's
no longer incorporating an IR blaster
like before – we're told that it was omitted to meet a certain price point criteria. So yeah, it's a bummer to see it go, but considering that this handset is targeting a totally different segment, it shouldn't be too bad. Also, the volume control is now two separated buttons – whereas before, it was a single piece. Aside from those two things, everything else from before is found here again, including hallmark features such as its two front-firing speakers with
HTC BoomSound
and
HTC UltraPixel camera
. Even though its UltraPixel camera shares the same BSI sensor and f2.0 aperture lens, it's actually lacking optical image stabilization.
Interface:
Sure, some of the hardware ticking inside of this thing might be different, but the experience isn't changing one bit with the HTC One mini. In fact, it's running the same
HTC Sense 5 UI
on top of Jelly Bean – so it's packing along
HTC BlinkFeed
that takes precedence on the homescreen. Honestly, there's nothing else that needs to be said about the experience. Therefore, if you live off social networking, you'll surely appreciate all what HTC has done with the BlinkFeed and the experience to cater to your every requests.
Ensuring that things are running smoothly, the HTC One mini is powered by a dual-core processor this time around – as opposed to the quad-core one employed by the original. Despite the choice of going with a processor that might be viewed as inferior, it's more than suitable in delivering the same lovable level of performance. With its
dual-core 1.4GHz Qualcomm Snapdragon 400 processor with 1GB of RAM
, the handset is able to pull off basic tasks with little fluff – and things seem to operate smoothly from what we can see thus far.
Expectations:
Was the HTC One just too big for you to handle? Well, surely enough, the HTC One mini is hoping to win you over this time around, since it's everything you wanted in the original model, but it's all packaged in a smaller form factor. However, seeing that we all know that HTC's flagship is currently selling for $200 on-contract, the HTC One mini requires a price point that's remarkably competitive to give consumers a reason to choose it over its elder brother – size aside, obviously. From what we can gather thus far in our short time checking it out, the HTC One mini seems like a wonderful addition to the family, which gives consumers just another option in what to pick up. Naturally, choice is always a great thing to find.