HTC One S touch button bug makes the phone go crazy (video)
28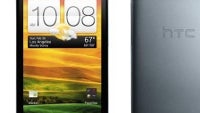 The
HTC One S
is a beauty to behold - it's a solid and extremely thin slab of unibody metal, but that outer beauty is marred by a weird software glitch that has persisted for a while and for various users.
The HTC One S would just go
randomly switching between the home screen and helicopter view
of all homescreens, and if you try to interfere the three capacitive buttons on the phone would just stop responding. It seems that quickly locking and unlocking the phone solves this, but only temporarily. Skip to the video below to see the phone go completely mad for no apparent reason, if you need that visual proof. HTC is taking phones for repair, but there's no universal solution yet.
This has ruined the experience for many users who have been trying to get an explanation from HTC, but so far it seems the company is keeping a tight lip about the issue. Various support forums have an explanation and it's a rather interesting one - in all likelihood, when the phone is in area with weak signal it has to boost power output to reach the cell and this allegedly causes
resonance
between the GSM frequency and the frequency of the capacitive buttons on the device itself. A simple fix could be just tweaking the button-press sensitivity to be higher, so that interference doesn't affect it - all something that a software update could easily fix.
To be perfectly exact, the 900MHz frequency in use by some European carrier could be interfering with the 2G signal. There are a couple of threads with users reporting about the issue including a
15-page one on XDA Developers
.
Actually, it seems the HTC One S is experiencing the exact same problems as the Samsung Galaxy Nexus earlier in the day, but while Samsung and Google released a fix for the issue, we're yet to see one from HTC. Needless to say, this is a frustrating problem for One S owners who are often taken through a long and tiring exchange with HTC, waiting weeks for a solution. We hope HTC comes out with an official fix addressing the issue sooner rather than later.
Thanks, Shep!