HTC Incredible HD captured on film flaunting Android 2.2, new Sense UI, & LTE
30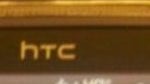 Not being the first time we're seeing leaked images of the anticipated HTC Incredible HD, but this latest one will truly overcome you with even more anticipation as it presents a boat load of freshness.
First and foremost, this fully awake smartphone is showing off the lovely presentation of the new Sense UI running on top of Android 2.2 Froyo. Although it's looking all majestic on a super large display, which Verizon customers are really waiting for, you'll find a special surprise upon closer inspection.
As we reported, the launch of the HTC Incredible HD is being
delayed to grace it with 4G LTE speeds
. In fact, that's exactly what you'll find sitting prettily at the very top most portion of the handset as the 4G symbol clearly sticks out. From the sound of it, the device is currently being put through the ropes and it's also hitting the impressive marks of 9Mbps downstream and 5Mbps upstream.
All in all, it's looking to be a fantastic device for Verizon customers who can commit to holding out for its arrival.
source:
Android Central
Recommended Stories