HTC Freestyle Hands-on
15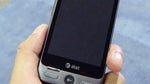 Super phones might be all the rage, which is quite evident from the announcements during CES, but there is still that segment in the market that don't want to jump up into the realms of smartphones. In addition, there are probably consumers out there who adore the designs of HTC's line of devices, but don't want to make the jump since it'll incur a higher monthly data cost. Lucky for AT&T customers, the
HTC Freestyle
is on the way with its
BREW-based platform
that will lessen the learning curve for some. In a way, you can argue that it's going to be an HTC feature phone for AT&T's lineup – which is nice since it won't require you to add on a higher monthly data plan.
Surprisingly, we're a bit taken back by the quality design and construction of the HTC Freestyle. Specifically, devices released nowadays in this segment don't necessarily receive the most care and love from manufacturers as they mainly rely on cheap materials. With the Freestyle, it utilizes a fresh industrial design that's surely going to impress those who would generally fathom it to be something completely different – as in one cheap phone! Additionally, its overall size is very easy on the hand with its compact form that will slip inconspicuously in a pocket. However, its overall smaller form factor is attributed to its 3.2" capacitive display that's more than desirable for its target audience.
The unit we checked out wasn't active, so we couldn't check out the BREW-based platform it's sporting – but it's along the same lines of what's in use with the HTC Smart. Meaning, it will offer HTC's beloved Sense user interface that is seen on pretty much their line of smartphones. With that on board, you'll be able to sample a tiny bit of what current data hungry HTC smartphone users are experiencing. Will this handset blow you away? Possibly, but more importantly, it's a refreshing thing to see since it's not that often we see venerable smartphone maker HTC going into the feature phone category.