HTC Desire Eye vs HTC One M8 vs Samsung Galaxy S5: specs comparison
2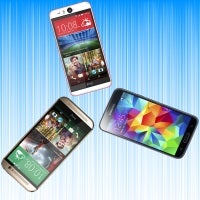 Now that the
HTC Desire Eye
's official existence is no longer a poorly-hidden industry secret, it's time we see how this camera-intensive smartphone compares to some of our favorite specs monsters from the first half of 2014. How about we put it against the
HTC One M8
and
Samsung Galaxy S5
? The former is his twin brother, the latter is still one of the best Android phones around.
First things first, the Desire Eye sticks out as the largest of the three. It's taller and wider than both the One (M8) and the Galaxy S5, it's still thinner than the M8, and it's 0.32 oz (9 g) heavier than both. It seems that 13MP front camera really took its toll.
The HTC Desire Eye also has the largest 1080p display in the trio - it's a 5.2-inch screen, while the One (M8) has a 5.0-inch screen, and the Galaxy S5 sports a 5.1-incher of a panel. At 441ppi, the One M8 has the highest pixel density, followed by the Galaxy S5 (432ppi) and the Desire Eye (423ppi).
Camera-wise, the HTC Desire Eye trumps both the Galaxy S5's measly 2.1-megapixel front cam, and the HTC One (M8)'s decent 5-megapixel front snapper with a full-blown 13MP camera on the front panel. Yikes! Samsung's flagship still has the biggest rear camera sensor (16MP) to play with, followed by the Desire Eye's 13MP main cam, while the HTC One (M8) differentiates with its quirky 4-ultrapixel Duo camera setup.
In terms of hardware, the trio is almost exactly on par. All three smartphones run on the Qualcomm Snapdragon 801 chipset, sporting minute differences in clock rates that favor the Galaxy S5's 2.5GHz over the HTC Desire Eye and One (M8)'s 2.3GHz. All have Adreno 330 GPUs and 2GB of RAM on disposal. Each device's in-built storage can be expanded with a microSD card.
Finally, both the HTC Desire Eye and One (M8) have 2600mAh battery to get them through the day, while the Samsung Galaxy S5 has a slightly bigger 2800mAh unit.
So, which one is the best-specc'd phone according to you?
Scratch-resistant glass, Ambient light sensor, Proximity sensor
Ambient light sensor, Proximity sensor
Ambient light sensor, Proximity sensor
Qualcomm Snapdragon 801 MSM8974-AC (28 nm)
Qualcomm Snapdragon 801
Qualcomm Snapdragon 801
Quad-core, 2500 MHz, Krait 400, 32-bit
Quad-core, 2300 MHz, Krait 400
Android (6.0 Marshmallow, 5.1 Lollipop, 5.0 Lollipop, 4.4.4, 4.4.2), Samsung TouchWiz UI
Android (6.0 Marshmallow, 5.0 Lollipop, 4.4.3, 4.4), HTC Sense UI
Android (5.0 Lollipop, 4.4.4), HTC Sense UI
Qualcomm Quick Charge 2.0
Qualcomm Quick Charge 2.0
21.00 hours
the

average

is 17 h (996 min)
16.2 days (390 hours)
the

average

is 20 days (472 h)
21.00 hours
the

average

is 19 h (1110 min)
20.00 hours
the

average

is 19 h (1110 min)
20.00 hours
the

average

is 19 h (1110 min)
20.7 days (496 hours)
the

average

is 0 days (0 h)
22.4 days (538 hours)
the

average

is 0 days (0 h)
Single camera
Dual camera
Single camera
13 MP (Autofocus, BSI sensor)
Aperture size: F2.2; Focal length: 31 mm; Sensor size: 1/2.6"; Pixel size: 1.12 μm
Aperture size: F2.0; Focal length: 28 mm; Sensor size: 1/3"; Pixel size: 2 μm
Aperture size: F2.0; Focal length: 28 mm
3840x2160 (4K UHD) (30 fps), 1920x1080 (Full HD) (60 fps)
1920x1080 (Full HD) (60 fps), 1280x720 (HD) (120 fps)
1920x1080 (Full HD)
HDR, Continuous autofocus, EIS, Video calling, Video sharing
HDR, Video light, Video sharing
Video calling
2.1 MP
5 MP
13 MP
1920x1080 (Full HD)
1920x1080 (Full HD)
1920x1080 (Full HD)
5.59 x 2.85 x 0.32 inches (142 x 72.5 x 8.1 mm)
5.76 x 2.78 x 0.37 inches (146.36 x 70.6 x 9.35 mm)
5.97 x 2.91 x 0.33 inches (151.7 x 73.8 x 8.5)
5.11 oz (145.0 g)
the

average

is 6.5 oz (184 g)
5.64 oz (160.0 g)
the

average

is 6.5 oz (184 g)
5.43 oz (154.0 g)
the

average

is 6.5 oz (184 g)
Back: Plastic
Back: Aluminum
Water, Dust; IP67
Splash; IPX3
Water; Yes
Touch sensitive control keys, Interchangeable covers, Notification light
Notification light