HP Veer 4G Unboxing
19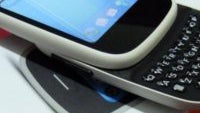 At the brink of a near death experience, it seemed that
Palm
was nearing an untimely death seeing that its lineup of webOS devices were unable to achieve that mass stardom needed to keep it competing healthily. Fortunately for them, they're now part of a much larger company in HP, and with their mighty presence in the consumer electronics market, they're hoping to experience smooth sailing with webOS once again.
As we near its
expected May 15th launch date
, the $99.99 on-contract
HP Veer 4G
is shaping up to be a decent entry to showcase the relevance that's surrounding webOS once again. Taking a look at its retail packaging, with its familiar white and orange theme, it's more than evident that it's an HP product – and not something from Palm. On the front, an accurate image of the diminutive device is splashed right on there to really give a telling of how compact this handset really is. Inside, we're presented with the usual set of documentation, SIM card, proprietary USB cable, wall charger, and 3.5mm headset adapter. Sadly though, it's rather a shame to see it side with a
proprietary data/power port
– as opposed to using the usual microUSB connection. Moreover, you'll need to be careful to not lose that
3.5mm headset adapter
, which engineers could not integrate with the handset itself.
Holding it for the first time, we're utterly mesmerized by how wickedly compact it is versus most smartphones nowadays. Comparing it to the original Palm Pre, it clearly evident that it's much smaller than its forefather – albeit, its thickness is roughly the same. Advertised as being the
size of a credit card
, it actually lives up to that remark hands down. However, it's hard to say right now whether or not we're fans of its
mostly white paneled sides and back cover
. Nonetheless, we're hungry to check out this handset a little bit more in depth – especially when webOS devices in general aren't released all the time.
Surely we'll be testing out the device over the course of the next few days to get a better grasp for it, but in the meantime, you can watch our unboxing video below. We'll have our in-depth review shortly!
Recommended Stories