HP Elite X3 to reach its End of Life on Nov 1? HP says no, phone to run through 2019
12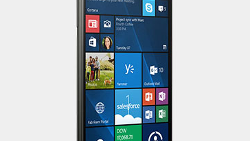 The HP Elite x3 has had the best specs of any Windows 10 Mobile powered handset since the device was launched last December. Now, there is talk that the Elite x3 will go EOL on November 1st. For those of you unaccustomed to playing alphabet soup, EOL stands for 'End of Life' and it means that the phone will no longer be sold after that date. The report, out of Germany, would give the phone 5 more weeks on the shelves before getting pulled for good.
The problem here isn't just HP's fault. Microsoft's decision to stop working on Windows 10 Mobile prevented HP from updating the Elite x3. According to the report, HP will continue to support the handset up to October 2018. There is some speculation
that an Android powered sequel to the HP Elite x3 is being tested by the company
.
It is possible that the Elite x3 reaches EOL prior to November 1st. According to another report out of Germany, there are only several thousand units left of the phone and supplies could run out before the EOL date. This same source also states that HP is rather upset with Microsoft ("pissed" is the word that was used) and instead of producing an Android version of the Elite x3, the HP will just recommend the Apple iPhone for its clients seeking a mobile handset. This might hurt Microsoft's patent royalties it receives from Android manufacturers, which actually runs into a big amount of money every year.
And as if we needed more rumors about this whole bizarre story, HP is denying that the phone is going EOL in November. Instead, HP claims in a statement that it will continue to offer the Elite x3 through 2019 while it works on manufacturing multi-OS devices. This is one strange tale that requires us to sit back and keep our eyes and ears open.
"HP is always responding to customer feedback to deliver the best product experiences. We remain committed to our mobility strategy and vision and will sell the Elite x3 through 2019 while continuing to enhance our portfolio delivering multi-OS devices, accessories and workflow transformation solutions. Mobility is an exciting and rapidly evolving area, and HP will continue to explore ways to address our customers' mobile computing needs."-Hewlett Packard
source:
WindowsUnited.de
(
translated
) via
MSPoweruser.com