Grooveshark app for webOS gets previewed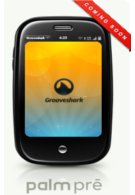 WebOS owners will soon have yet another online music service app that's heading their way – Grooveshark announced today the launch of a native app for webOS. For those not too familiar, Grooveshark is an online music service that allows users to access its vast on-demand song catalog; similar to other live streaming services out there. Not considered a small fish in the pond, Grooveshark host a numbers of tracks that runs well into the millions – at the same time, it offers a personal playlist and favorites for its base of users. It'll be some time before the actual app is made available through the App Catalog, but Palm Pre and Pixi owners should expect to see it "very soon" according to the startup. Their latest offering for webOS owners supplements their existing support for apps catered for Android and BlackBerry smartphones. Although they've completed their work on an iPhone app since back in July 2009, its appearance on the App Store is still nowhere in sight – let's hope that the same fate doesn't play out with the webOS version.
via
MobileCrunch
Grooveshark on the Palm Pre from Grooveshark on Vimeo.