Google's Android N documentation hints at 'freeform', a Windows-like desktop UI mode
12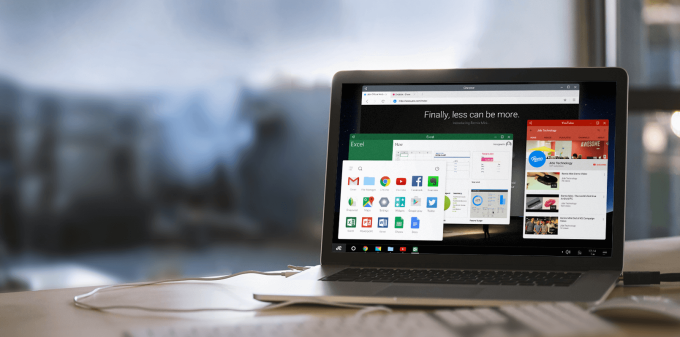 Is Google preparing Android to tackle the laptop/desktop market?
As many probably know already, Google has recently launched a
first preview of Android N
. We already know most of the
main new features
, and the new split-screen mode is one of them. As it turns out, however, the source code of the Android N preview and Google's own documentation also make mention of another, more complex multi-window mode.
The documentation refers to this new UI layout as a freeform mode and is basically a two-dimensional expansion of the split-screen mode. The split screen mode allows users to launch two apps simultaneously on screen and adjust the width of the apps to their preference. In the freeform mode, users will be able to set both the width and the height of the apps on screen.
Google's own Android N documentation reads:
Manufacturers of larger devices can choose to enable freeform mode, in which the user can freely resize each activity. If the manufacturer enables this feature, the device offers freeform mode in addition to split-screen mode.
While we can't tell how the Android's new freeform layout mode will look like in practice, we can imagine something similar to what Windows machines have been offering for years.
Looking no further than the Android ecosystem, Samsung has modified stock Android to support a multi-window feature
since late 2014
. A similar functionality is also being offered by
Jide's Remix OS
, a forked (highly customized) Android implementations which can be installed on most laptops and computers.
In Freeform mode, Android users will be able to freely resize activities
The Android N developer documentation instructs developers on how to support both split-screen and freeform, which are both referred to as multi-window modes. It's also important to note that developers can either support both multi-window modes or none. When a user launches an app that doesn't support the new multi-window functionality, the app will take up the whole screen.
Now, the reason why this feature wasn't discovered earlier is because it's not actually available in the Android N preview. At this point, freeform is referred by the source code as an experimental mode, which might suggest that even if future Android N previews do come with freeform, the feature isn't a lock for the official Android N launch. Last year when Google launched the Android M preview, the source code mentioned an experimental split-screen mode, but the launch was obviously delayed for the next major Android iteration.