Google to use Project Loon balloons to restore some cell service to Puerto Rico
7
Thanks to Hurricane Maria, Puerto Rico's cellular infrastructure has been badly damaged. The FCC said yesterday that 83% of cell sites on the island are down, forcing carriers in the U.S. territory to employ backup methods in an effort to get their networks running. Late yesterday, Google parent Alphabet received permission from the FCC to use balloons to provide Puerto Rico with emergency cellular coverage.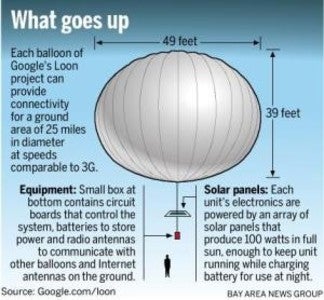 How Project Loon works
Back in June 2013,
Google launched Project Loon by sending balloons into the skies above New Zealand
. The balloons were equipped with technology that would allow them to provide cellular service to remote areas where such service doesn't exist. In a filing with the FCC, Google wrote that it wanted approval to use the balloons to "support licensed mobile carriers' restoration of limited communications capability" in Puerto Rico.
FCC Chairman Ajit Pai announced on Friday the creation of a Hurricane Recovery Task Force that would focus on rebuilding Puerto Rico and the U.S. Virgin Islands. Pai said that this includes the "the rebuilding of communications infrastructure and restoration of communications services."
source:
Reuters