Google reportedly wants YouTube Red to directly compete with Netflix
16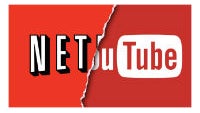 This story might not be too surprising, because it has popped up in regards to Google a number of times in one way or another over the past few years. But, word has it that Google is working on licensing deals for movies and TV shows to add to its YouTube Red offerings in order to more directly compete with services like Netflix, Amazon Prime, and Hulu.
However, YouTube is reportedly going about it in a slightly different way. According to the
Wall Street Journal
report, YouTube doesn't want to license catalogs of old TV shows and movies, but wants to make deals with studios for new content. The idea seems to be that YouTube wants to license content similar to Netflix's offerings of
Daredevil
and
Jessica Jones
, where the content is produced by an outside source and shown on YouTube. It appears as though YouTube does not want to produce content itself, like Netflix did with
Arrested Development
, but offer exclusives made by YouTubers (like the previously announced
PewDiePie horror show
) or content from studios.
All in all, it sounds like another way to make a good deal even better. YouTube Red already gives you ad-free YouTube, offline playback, exclusive content, and Google Play Music All Access, so more content just makes the deal that much more enticing.