Google picks 12 best Android games of 2012
11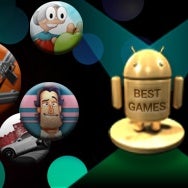 Games are without a doubt the most popular and profiting category of applications on Android, and today, after yesterday's recap of Google Play's best apps for the year, we have Google's picks for 2012's best games.
Titled
"Games We Love: Best Games of 2012,"
nearly all genres are included starting with sports and racing, and going to good old shooters and action. As the year is 2012, so the picks are 12 accordingly.
Best of all, half of them are available for absolutely free, and the other half is discounted to just a dollar. You can take a look at Google's 2012 best game selection right below. We'd love to also hear your thoughs: what is your favorite game of the year?
source:
Google Play
Google's selection of 2012's best Android games