Google+ for iPhone finally approved
41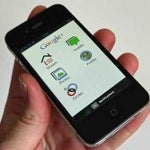 We just had the Google+ mobile site updated for
compatibility with IE
on Windows Phone 7, and now the iPhone app has finally made it through Apple's approval process. The app has the features that you would expect from an iPhone app, but only has a couple features that separate it from the mobile version and more bugs than you may want.
Unfortunately, those last two features are the only thing that really sets this app apart from the mobile version that you have been able to access through your browser. In addition, early reports say the app is buggy and will often hang for 5-10 seconds or crash completely on iOS4 and on iOS5 the instability is even worse. Top that off with the fact that the Google+ app does not work on iPod Touch or iPads. This is strictly iPhone only. And, this is also US only for now as well, the app will not be in international App Stores.
We weren't expecting an app on par with Android, especially given the auto-upload of photos and video available in Android, but the overall bugginess of the iPhone app is disappointing. If you really want Push Notifications and easier photo sharing, definitely grab the app, otherwise, you might want to stick with the mobile website until the app is updated. Although, with the approval process on iOS that could be a while.
Of course, Google+ is still invite only. But, if you'd like an invite just leave your e-mail in the comments and we'll send you an invite (or one of our other friendly readers can help out.)
*Update*
Google+ lead product manager, Punit Soni has said that the original version of the app that Apple had posted did not include a number of bug fixes. If you installed the app within the first couple hours it was up, you should remove the app and reinstall to get the newer version with the bug fixes.