Google finds the perfect partner to develop "smart lens" with
8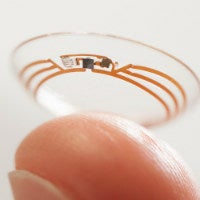 Swiss pharmaceutical company Novartis has announced that its eye care division – Alcon – has signed a deal with Google[x], a division within Google, to in-license the "smart lens" technology. The agreement states that Google[x] and Alcon will collaborate to develop and commercialize lenses with embedded sensors, wireless chips and electronics, which would aim to address ocular conditions and provide real-time glucose level feedback to the user via their smartphone.
Alcon was first founded in 1945 in Fort Worth, Texas and built its success by researching eye care products to increase safety and reduce contamination. In 1977, it was purchased by Nestlé Switzerland and in the following years grew to become the largest and most profitable ophthalmic company in the world. In 2010, Novartis acquired Nestlé's 52 percent share for $28.1 billion. Nestlé currently holds no shares in Alcon.
As for their new partner – Google[x] is a somewhat secretive division of Google, claimed to be tasked with researching major technological advancements to deal with big global problems. It is the same facility that is working on projects, such as the Google driverless car, Project Loon (
aiming to bring wireless Internet to rural areas via baloons
), Project Glass and the "smart lens" tech.
Sounds like a match made in Heaven, as far as contact lenses go. Now, don't hold your breath, this kind of tech probably has a long way to go until it sees the light of day, but it sure would be awesome once it does.
source:
Novartis
via
Android Central