Google dishes up the technical specifications of Glass
17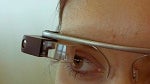 Project Glass is about to become a tangible real product in the hands of a few very soon. There is no shortage of excitement or controversy over this high-tech eyewear.
While the debates over privacy and cheers of enthusiasts will carry on for the foreseeable future, we can take a look at the official specifications of Glass and what this hardware is really made of.
These $1,500 fashion and technology statements pack a lot in a very small package when you think about it. We will start with the camera, the main sensor is a 5MP unit capable of capturing video at 720p. Connectivity is handled via Bluetooth or Wi-Fi 802.11b/g and there is 16GB of storage, of which, 12GB is usable. Glass will be compatible with any Bluetooth capable device, but using the MyGlass companion app requires an Android device running 4.0 ICS or later. Using MyGlass enables GPS and SMS messaging.
The size of the battery is not listed, but it is expected to provide a full day of standard use, assuming you do not try to spend the whole day in "hangouts" or performing heavy video recording. The battery is recharged using a micro USB, but Google strongly recommends using the included charger versus using another product to charge Glass.
Power feeds a "high resolution" display which will project the equivalent of a 25-inch high-definition screen placed about eight feet away (about 2.4 meters) away. When you are on a call, audio is handled via a bone conduction tranducer.
Other than that, Glass will include extra nose-pads in two sizes and the frame is designed to fit any sized face. The outline of specs is listed below. What do you think? Is Glass in your future?
Adjustable nosepads and durable frame fits any face.
Extra nosepads in two sizes.
High resolution display is the equivalent of a 25 inch high definition screen from eight feet away.
Photos - 5 MP
Videos - 720p
Bone Conduction Transducer
Wifi - 802.11b/g
Bluetooth
12 GB of usable memory, synced with Google cloud storage. 16 GB Flash total.
One full day of typical use. Some features, like Hangouts and video recording, are more battery intensive.
Included Micro USB cable and charger.
While there are thousands of Micro USB chargers out there, Glass is designed and tested with the included charger in mind. Use it and preserve long and prosperous Glass use.

Any Bluetooth-capable phone.
The MyGlass companion app requires Android 4.0.3 (Ice Cream Sandwich) or higher. MyGlass enables GPS and SMS messaging.
sources:
Google
via
CNET