Google could sell 6-8 million Nexus 7 tablets by year's end
7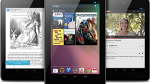 The Nexus 7 has been just as popular as you'd expect for a powerhouse tablet that's priced at just $200. We've seen it selling out extremely fast both at retailers and though the Google Play Store, and now we've got some estimates for how many tablets Google may end up selling by the end of the year, if it can keep up the pace it has set early on.
We need to say right from the start that these numbers are all based on estimates and shipping information, not actual sales numbers. According to a Digitimes report, TPK Holding & Wintek, the suppliers of Nexus 7 one glass solution (OGS) panels, shipped 1 million panels in June and 1.4 million in July. The idea is then that it takes 2.5 weeks to produce and ship the Nexus 7 to Google. Given the sell-out rate of the tablets so far, the estimate is put at a conservative 4 weeks for Google to sell a batch of Nexus 7s. That would mean in Q3 alone, Google is on pace to have 4 million Nexus 7s shipped, and 3 million sold.
Of course, we all know that Amazon is coming out with
new Kindle Fire models
, and it seems almost assured that Apple will be announcing an
iPad Mini
, which means Q4 will have increased competition for Google, but at the same time, demand should increase because of the holiday season. Using historical data from sales after the original Kindle Fire release and the new iPad release, the estimate is that Google could see about a 35% increase in sales quarter-over-quarter. That means Q4 sales could be anywhere from 3-5 million, making 6-8 million in total by the end of the year.
Not a bad haul if Google can keep up the pace. Of course, a lot of that depends on how aggressively Apple prices the iPad Mini, and how much Amazon can improve the software on the Fire.