Google announces Open Automotive Alliance with Audi, GM, others: pushing Android to cars
8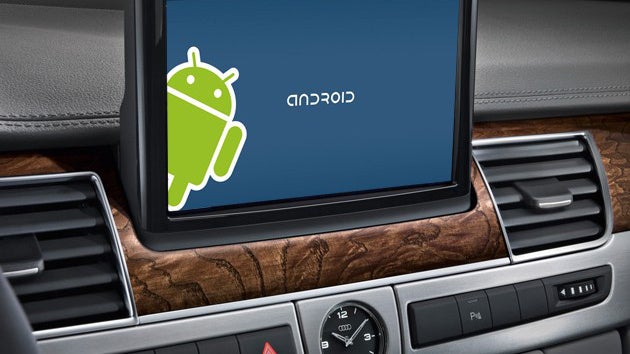 Google is pushing Android to cars. The search giant unveiled the Open Automotive Alliance (OAA) at CES 2014 to make the connected cars of the future a reality.
Car giants Audi, GM, Honda, Hyundai and chip maker NVIDIA are first on board of this new
"global alliance of technology and auto industry leaders committed to bringing the Android platform to cars starting in 2014."
The OAA comes with one main task - to create a unified platform allowing for effortless integration of Android in the car. The alliance will also be tasked with developing the tools to allow developers to easily build Android apps for the connected car. The alliance hopes to get more car makers on board soon as well.
The OAA is already negotiating the use of the system in cars with the National Highways Traffic Safety Administration (NHTSA).
Nonetheless, Google is not the first or the only partner of car makers in the effort to bring the connected car of the future. Apple has earlier unveiled its
"iOS in the car"
partnership with an impressively large list of car makers including Honda, Mercedes Benz, Nissan, Ferrari, Chevy, Infiniti, Kia, Hyundai, Volvo, Jaguar, and Acura, while others like Ford with its own Microsoft-based Sync system are working on different solutions. The Open Automotive Alliance, however, is still larger than initial rumors of a Google-Audi-only alliance.
The OAA expects to see the first Android smart connected cars arrive by the end of 2014, but there are no details on the exact make or model.

New roads ahead for Android and the Open Automotive Alliance
Tech companies and auto industry leaders join forces to make the connected car a reality in 2014
January 6, 2014 [12:01AM]
MOUNTAIN VIEW, Calif.; INGOLSTADT, Germany; DETROIT, Mich.; TOKYO, Japan; SEOUL, South Korea., January 6, 2014 – Extending the success of the Android ecosystem, which has seen over one billion devices activated to date, a coalition of auto and technology companies announced today a new industry alliance aimed at bringing the Android platform to a device that's always been mobile: the car.
Audi, GM, Google, Honda, Hyundai and NVIDIA have joined together to form the Open Automotive Alliance (OAA), a global alliance of technology and auto industry leaders committed to bringing the Android platform to cars starting in 2014. The OAA is dedicated to a common platform that will drive innovation, and make technology in the car safer and more intuitive for everyone.
The OAA is aimed at accelerating auto innovation with an approach that offers openness, customization and scale, key tenets that have already made Android a familiar part of millions of people's lives. This open development model and common platform will allow automakers to more easily bring cutting-edge technology to their drivers, and create new opportunities for developers to deliver powerful experiences for drivers and passengers in a safe and scalable way.
"The worlds of consumer and automotive technologies have never been more closely aligned, and this alliance will only pave the way for faster innovation," said Ricky Hudi, Head of Electrics/Electronics Development at AUDI AG. "Working toward a common ecosystems benefits driver safety above all."
"Partnering with Google and the OAA on an ecosystem that spans across vehicles and handheld mobile devices furthers our mission to bring vehicles into our owners digital lives and their digital lives into their vehicles," said Mary Chan, President of General Motors' Global Connected Consumer unit. "We see huge opportunities for the Android platform paired with OnStar 4G LTE connectivity in future Chevrolet, Buick, GMC and Cadillac vehicles."
"Millions of people are already familiar with Android and use it everyday," said Sundar Pichai, SVP of Android, Chrome & Apps at Google. "The expansion of the Android platform into automotive will allow our industry partners to more easily integrate mobile technology into cars and offer drivers a familiar, seamless experience so they can focus on the road."
"We are very pleased to join this alliance with Google as a founding member because Honda is committed to providing the very best connected-car experience to our customers," said Yoshiharu Yamamoto, president, CEO and director of Honda R&D Co., Ltd. "The Honda team is looking forward to collaborating with Google and all OAA members to help advance the safety, value and ease of use of connected-car technologies."
"Through the OAA, our customers using Android devices will soon be able to enjoy the continuous user experience in their Hyundai and Kia vehicles." said Dr. Woong-Chul Yang, Vice Chairman of R&D, Hyundai Motor Group. "By introducing the latest IT technologies safely and securely throughout our full range of vehicles, we continually strive to provide the highest levels of convenience and enhance the in-vehicle experience."
"The car is the ultimate mobile computer. With onboard supercomputing chips, futuristic cars of our dreams will no longer be science fiction," said Jen-Hsun Huang, president and chief executive officer, NVIDIA. "The OAA will enable the car industry to bring these amazing cars to market faster."
OAA members share a vision for the connected car, and bringing these open standards of innovation to the market will help extend people's mobile experience seamlessly to another platform they already know and love. Timing from each automaker will vary, but you can expect to see the first cars with Android integration by the end of this year. The OAA invites other automotive technology companies to join in this endeavor.

source:
Open Automotive Alliance
Recommended Stories