Google acquires Appurify, an app testing platform, iOS still supported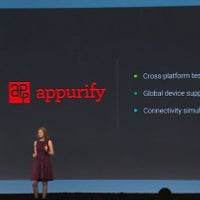 It was just announced that Google hasacquired Appurify, which is touted as being "the mostsophisticated cloud-based app testing service".This will enable app and game developers to test their productsbefore releasing them on Google Play. Appurify helps developers take care of fragmentation, as it enables them to procurea large number of tests, most notably connectivity and battery-life simulating and ones.It was also revealed that Appurify will still support iOS. Theapp-testing service will be freemium.
"You've told us that testing can be painful and we want it to be easy…Appurify is leading the way in replicating how you app performs in the real world and we're excited to help them further scale and bring their expertise to your app development process, "
said Ellie Powers, a Google Play manager, when she appeared at the stage of Google I/O.
Hopefully, this means that we will be treated to a more streamlined user experience when it comes to Android apps from now on, as the Appurify service will help developers spot obnoxious bugs, flaws, and issues before their apps hit Google Play.
source: Google via
Techcrunch