Google Wifi can now be pre-ordered for $129; ships in December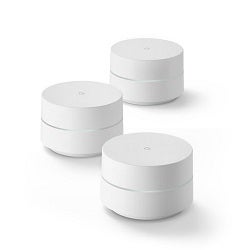 Google announced a heap of new products at their press event that took place back in early October, and while the majority of their new gadgets have been released, we've still been left waiting for one of them. The
Pixel
and
Pixel XL
have been on the market for some time, Google Home is now available at retail outlets such as Best Buy, and the Chromecast Ultra and Daydream View have also both been available for some time. However, there's been one product that we've been waiting and waiting to become available for purchase. That product is Google Wifi, and the device is now officially available for pre-order.
Just what is Google Wifi and what makes it so special? Google Wifi is the company's latest router, and although routers aren't typically all that exciting, Google Wifi is a bit different. Just one of the routers is able to cover a home up to as much as 1,500-square feet, but if that isn't enough coverage for your home, you can purchase additional Google Wifi routers that can work in conjunction with one another. If you have a particularly large house and need as much blanketed Wi-Fi coverage as you can get, purchasing a 3-pack of the Google Wifi routers will provide you with a whopping 4,500-square feet of coverage.
Google Wifi is powered by something the company is calling "Network Assist", and this allows devices to seamlessly switch which router it's connected to when there are multiple routers set up. The routers can easily be controlled via the Google Wifi app, and this will include features for pausing your Wi-Fi connection when it's time for the kids to be working on homework, adjusting your guest Wi-Fi settings, prioritize the connection to specific devices, and more.
If you're interested in giving Google Wifi a whirl, a single router can be purchased for $129 and a 3-pack will run you $299. The Google Store is estimating that orders will ship out between 2 or 3 weeks, but if the Google Store isn't your cup of tea, you can also order Google Wifi from Best Buy, Walmart, and Amazon.