Google Maps for iOS may have not been submitted to Apple... yet
17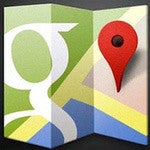 Rumor has it that Google Maps for iOS is already being reviewed by Apple, suggesting that the app might become available for download sooner than we expect it to. That is great news for many who have experienced using Cupertino's own Maps application, which, as users have discovered,
isn't quite perfect yet
. However, others claim that the rumor is false. In particular, here is what the well-informed Jim Dalrymple for
The Loop
had to say regarding the Google Maps app submission:
"Nope"
.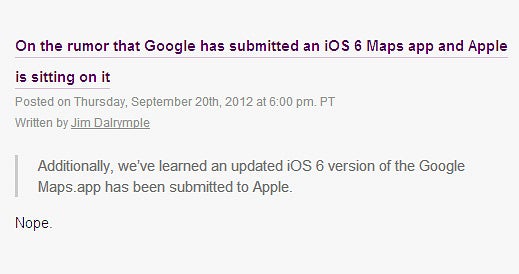 Google Maps for iOS may have not been submitted to Apple yet
Thankfully, his words only suggest that Google has not submitted the application yet. Google Maps will surely land on iOS one day or another, and we already know what users
might expect it to offer in terms of features
. Until then, however, anyone running iOS 6 on their smartphone or tablet will have to rely on Apple Maps, or use the
web-based version of Google Maps as an alternative
.
The reason why many iPhone and iPad owners are now hoping for Google to bring back its Maps app on iOS is that Apple's own mapping application is not as reliable. Numerous users have reported incorrectly labeled businesses, places of interest, and even some smaller cities are not located where they are supposed to be.
Apple has already commented on the matter
and promised that the user experience will be improved.