Google Keyboard 5.1 arrives with customizable themes and Unicode 9 emoji support, download it here
5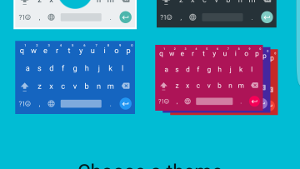 Do you remember that Google showcased a nifty and rather colorful stock keyboard during Android Nougat's official public release at Google I/O 2016? Well, it did.
Lucky for all Android fans, they won't need to wait for the official rollout of Nougat - the demonstrated version of the keyboard is arriving prematurely with a software update, v5.1.It's currently rolling in stages to all users who have the app installed on their Android devices - in case you've not received the update yet, you should patiently wait for it.
Previously, Google Keyboard allowed you to choose between two themes—Material Light and Material Darк, but v5.1 allows you to choose between a plethora of colors and even use your own image as a background for the keyboard. You can have bordered and borderless keys, too. Version 5.1 of Google Keyboard also supports Unicode 9 emoji, though the built-in skin color selector only works in the Android Nougat preview.
Many third-party keyboards have offered similar features for a long time, but it's always good to see Google throw in additional functionalities in its own core Android apps. You can get the