Google I/O attendees contacted about receiving the Moto 360
5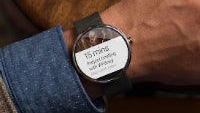 We found out earlier today that Motorola will be holding an event on
September 4th
in Chicago, and the likelihood is that the Moto X+1, Moto G2, and Moto 360 will be announced at that event. Unfortunately, we don't yet when those devices will be released. But, Google has been reaching out to I/O attendees about the Moto 360, which makes us think it might be sooner rather than later.
There have been rumors of the
Moto G2
being released on September 10th, and the X+1 on the
25th
, which leaves a pretty wide window for the release of the 360. However, if you remember back at Google I/O, attendees were given the choice of either an LG G Watch or Samsung Gear Live, as well as a Moto 360 when it became available. Today, Google began contacting I/O attendees in order to get shipping addresses for the Moto 360, and the deadline to fill out the form for that is midnight September 5th, which would be right after Motorola's Chicago event.
This bit of bookkeeping doesn't necessarily mean much, but the deadline makes it seem as though the 360s will be shipping out fairly soon after the announcement. Of course, it also should be kept in mind that Google I/O attendees are developers and journalists, and it wouldn't be out of the ordinary for that group to get the device a bit before the general public. Developers would want time to test their apps on the round watch face, and journalists would want to have time to use the device before writing reviews.
Still, it definitely makes it feel like things are happening more quickly now.