Google Hangouts for Android updated with merged conversations and more
7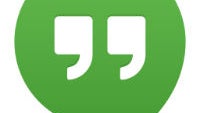 When Google first added SMS support to Hangouts, there was something of a mixed reaction to the feature. The main issue was that it was a bit clunky and confusing, because unlike iMessage, Hangouts kept SMS separate from instant message chats. Google has finally fixed that issue with a new update for the Hangouts app that merges conversations into a single stream.
This means that whether you are chatting or conversing via SMS, it will be in the same space for each contact. In your contacts list, it will show either an SMS icon or a Hangouts chat bubble icon, and the same will be found to the left of the text input field, so you can easily switch between the two. And, if you don't like the new merged view, you can change your settings to have the conversations split apart.
There is more in the update as well. The contacts list has been simplified to organize people between Hangouts contacts and SMS, which should make it easier to find the people you want (if you're not using the search box). Even better, there is a new homescreen widget to make it easier to jump into a specific conversation. The widget is resizeable and scrollable as well.
Other than all that, there are the general performance improvements, bug, and security fixes. The rollout of the update has begun, so you should be seeing it hit your device within the next couple days at the latest.