Google AutoDraw uses the power of AI to turn your horrible doodles into beautiful pictures
2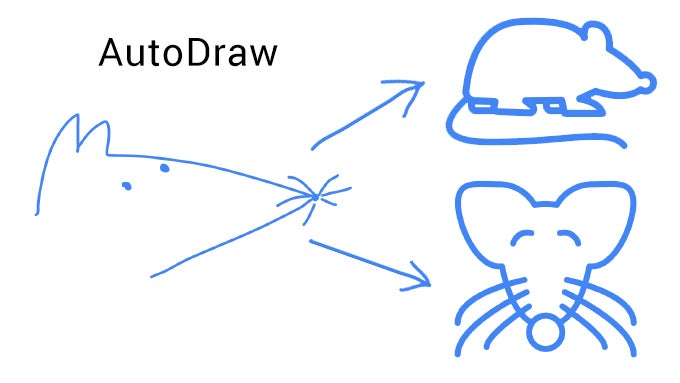 "Drawing on your phone or computer can be slow and difficult,"
Google says, and it's true. Heck, we'd just say that drawing is difficult in general. Period! Medium and tools don't matter when you draw like a 6-year old.
However, thanks to Google's new magic tool, your crude scribbles can be turned into something intelligible, dare we say even somewhat eye-pleasing. Meet AutoDraw, an AI-powered platform that recognizes doodles and replaces them with drawings made by people who actually know what they're doing.
You are even given some flexibility, as AutoDraw lets you choose from a roster of pictures of the same object, provided it recognizes what you're drawing. Let's say, for example, that you're trying to draw a birthday cake, but your scribble more closely resembles a shapeless blob with candles sticking out. No problem! AutoDraw will more likely than not pick up on where you're going with the doodle and give you a handful of suggestions in different styles.
At this point, AutoDraw lacks in the practicality department and is more of a fun experiment, but this will likely change further down the line. If nothing else, all the data collected by the experiment will be used for improving other, more meaningful, Google services, as has been the case in the past.
AutoDraw is powered by the same tech as Google's QuickDraw experiment, which tasks you with drawing something and then tries to guess what it is. More than likely, both are connected and are mutually feeding each other with collected data to improve image recognition algorithms.
You can check out AutoDraw and QuickDraw by following the links below. Both work on desktop PCs and mobile devices: