Google: Android Lollipop is now installed on 23.5% of active devices
74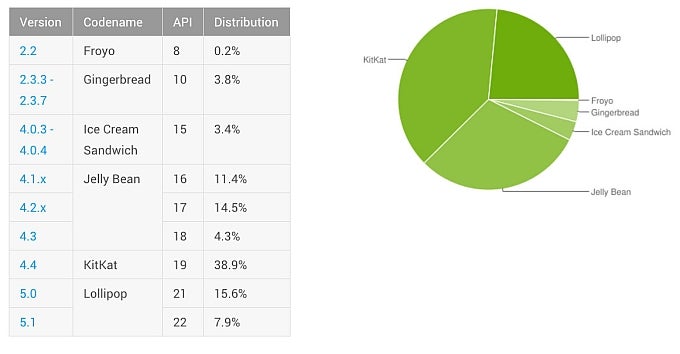 Yesterday Google published the updated Android Distribution numbers for October, stats that show which Android versions are the most popular among active devices. The numbers are compiled based on the Android devices that visited the Play Store in the seven days ending October 5th.
Since last month, Android Lollipop - the name given to the 5.0 and 5.1 versions of Google's mobile OS - rose slightly to 23.5% from 21% in terms of user adoption. All of the older Android versions dropped in popularity as devices got updated or owners upgraded to newer products. Considering that the original Lollipop version launched last year, these stats are a perfect example of Google's struggle to maintain a level playing field among Android devices.
4.3 Kit Kat remains the most popular Android version despite the fact that it lost 0.3 percentage points and now stands at 38.9%. JellyBean, which is the name given to versions 4.1, 4.2, and 4.3 of Android, is up and running on 30.2% of devices.
Android 4.0 Ice Cream Sandwich is now installed on 3.4% of active Android devices while Gingerbread (Android 2.3) runs on 3.8% of devices. Android 2.2 FroYo, an Android version that Google launched all the way back in May 2010, refuses to die and maintained its 0.2 percentage points in the popularity charts.