Golden HTC One pops up exclusively at O2 in Germany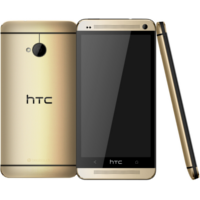 After Apple and Samsung gave their 2013 flagship devices a golden touch, it was just a matter of time before their competitors catch up with them and pick up the latest trend. HTC was the third major phone manufacturer which announced that it will add the golden color option to its flagship device, HTC One.
As a matter of fact, the golden HTC One was officially revealed several days ago, but it was stated that it will be available no earlier than mid-December. Surprisingly, German carrier O2 has obtained exclusivity for this color version of HTC's flagship smart phone and now lists the device as available. However, the carrier states that there might be certain delays in deliveries. You can get the golden HTC One with a two-year contract. This way, the device will cost you about $1.36 (1 EUR), the same as its black and silver versions, and you will have to pay $53.62 (39.49 EUR) per month as a part of your contract. Of course, you can opt to buy the device without signing a contract, but that will cost you $734.52 (541 EUR).