Gold release of iPhone OS 3.0 now available to developers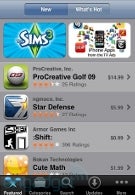 While the public won't be able to get their hands on the new iPhone OS 3.0 until June 17th, developers can get a copy of the gold build of the software now. The idea is that with the head start, developers can use the new functions in OS 3.0 to offer iPhone users apps and games that take advantage of the upgraded feature set for the device. For example, developers could use push-notification or in-app payments to add new functions to their applications or games.
Some of the changes seen since beta 5 include iTunes offering more T.V., movie and music downloads directly from the handset. The App Store now has a "More" button on its navigation bar where one can find a "Top 25" and a "Redeem" link. In Settings, the Store screen shows a display with information from the user's account, but it is minus support for MMS which means that iPhone owners might need a further upgrade from AT&T to start using MMS once the carrier flips the switch on.
source:
EngadgetMobile
Invalid image meta