Globalfoundries shows off first 3D-stacked TSV chips on 20nm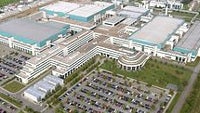 Globalfoundries broke a huge milestone in the quest to 3D stacking of chips
, a method that will speed up communications between layered chips. For instance stacking 2D chips and connecting them in the third dimension would allow for much wider, high capacity communication between processor and RAM.
Globalfoundries demonstrated its first fully functional 20nm silicon wafers featuring integrated through-silicon vias (TSVs).
TSV chips are expected to extend Moore's law and bring out a new wave of tinier and more powerful gadgets. With TSV, power consumption could theoretically go down 10 to 100 times.
Globalfoundries in particualr is using a
'via-middle'
manufacturing, inserting the TSVs after the wafer go through front-end-of-line (FEOL) and before the back-end-of-line processing to avoid hihg temperatures during FEOL.
"Our industry has been talking about the promise of 3D chip stacking for years, but this development is another sign that the promise will soon be a reality,"
said Globalfoundries VP of packaging R&D David McCann.
"Our next step is to leverage Fab 8's advanced TSV capabilities in conjunction with our OSAT partners to assemble and qualify 3D test vehicles for our open supply chain model, providing customers with the flexibility to choose their preferred back-end supply chain."

source:
DigiTimes