Giveaway: Asus Transfomer Pad 300 with keyboard dock, Jambox Speaker and Logitech game controller #2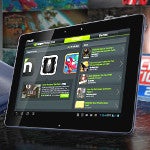 The
TegraZone application
has proven to be invaluable for mobile gamers rocking a Tegra-powered phone/tablet. It's a place where one can discover the latest titles optimized for their device, and most of the time, these titles come with some pretty impressive graphics that manage to impress us for being possible on a mobile device. Because of TegraZone's success during the last year, NVIDIA is organizing the 1st ever
TegraZone Player's Choice Awards
- an initiative that allows you to vote for your favorite Tegra-optimized game and win a brand new
ASUS Transformer Pad 300
, as well as some other gaming gadgets, in the process. The ASUS Transformer Pad is a value packed tablet that comes with multi-color style, and enhances productivity with expandability when connected to the mobile dock. With a 1.2MP front and 8MP rear auto-focus camera with large F/2.2 aperture and exclusive office software, staying connected and productive has never been easier.
first of three ASUS Transformer Pad prize packs
. This week, in partnership with NVIDIA and ASUS, we are giving you the chance to win our second price pack! Here's what it includes:
- ASUS Transformer Pad 300
- Keyboard dock
- Jambox Speaker
- Logitech game controller
As you can see, it's a complete mobile gaming solution that will let you play every cool game the way it's meant to be played.
Let's take a look at what you have to do in order to enter the TegraZone Player's Choice Awards and have a chance to win:
1. Post a comment below, telling us which is your favorite Tegra game!

1.1.
Congratulations, you're now participating in our giveaway.
2. Go vote for your favorite Tegra game for another chance to win!
2.1.
Head this way
to vote (
link for mobile devices
), or simply scan the following QR code with your device to go to the voting page. You'll notice that there are three categories for votes: Best Gameplay, Best Graphics and Overall Fun. Voting will be open from May 10 to May 31, and the winning games will be announced at E3. We encourage you to give it a try, since NVIDIA is giving a total of 7 of those lovely price packs away!
We'll draw the second lucky winner next Thursday (May 24) and contact them via the email address that they used to register on PhoneArena.
*update May

24

28* we've drawn the lucky winner - congratulations to user "Commentator
" - please check your email for instructions how to get the prize pack.
By the way, you might want to know that Sonic The Hedgehog 4: Episode II THD is now available in TegraZone and
Google Play
(
Lite versions
), sporing some console-quality graphics and the characteristic fast-paced action of the series. This Tegra 3-optimized version comes with improved lighting quality, higher polygon count, more complex textures and even a co-op multiplayer mode. So, if you are fans of the most popular hedgehog out there, you should definitely give this one a try!
By entering this promotion, participants agree to be bound by these terms and that the decision of Phone Arena is final and binding in all matters relating to this promotion.

The draw is open only to USA residents aged 18 or over, other than employees of phonearena.com, its agencies or their families.

Phone Arena reserves the right to substitute a prize of equal or greater value if this is necessary for reasons beyond its control. No cash alternative to the prize will be offered.

Phone Arena reserves the right to re-draw the prize if the prize-winner does not reply within three days after being contacted.

Phone Arena accepts no responsibility for any loss, damage, injury or disappointment suffered by any entrant resulting from entering this prize draw or by the entrant's acceptance of the prize.

Phone Arena reserves the right to alter, amend or foreclose this Free Prize Draw without prior notice in the event of unforeseen circumstances, which make this unavoidable.