Girl gets stuck in a storm drain trying to rescue fallen BlackBerry
72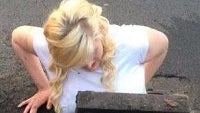 What lengths would you go to rescue your beloved smartphone? In the United Kingdom, 16-year-old Ella Birchenough of Dover, Kent, was willing to jump into a storm drain to rescue hers.
Ella was walking down the street talking with a friend while handling her phone. When she tried to put her phone in her pocket. She missed her pocket, dropped her phone, and it skipped into the storm drain at the side of the road.
"I thought to myself, 'I'm not leaving this,'" she told reporters. She then proceeded to climb down into the drain feet first in an effort to retrieve the phone with her feet. Her attempt to secure the BlackBerry failed, but then she had a new problem, she could not lift herself out of the drain.
Ella had a good sense of humor over the whole thing, "I wasn't really even stuck, I just need somebody to help lift me out but my mum got all panicky." Taxi operator, Joanne (we presume Ella's mother), was initially really worried, "I was in a panic…I ran out of the house, turned the corner – but as soon as I saw her I burst out laughing."
Kent Fire and Rescue were able to lift Ella safely out of the drain and she was not hurt in the ordeal, but sadly, her BlackBerry did not survive. It was recovered, broken. The good news is that the local morning TV program gave Ella a brand new replacement the next day, an iPhone. As for Ella herself, her mom summed it up nicely, "She is never going to live this down now. We will be bringing it out at her 18th birthday and her wedding."
sources:
SWNS.com
and
@Kent_999s
(Twitter and photo credits)