German owners of the Samsung Galaxy S II Plus receive Android 4.2.2
9
Does Samsung have it backwards? Over in Germany, the
Samsung Galaxy S II Plus
is receiving an update to Android 4.2.2. So what's the big deal? Well, it turns out that the Galaxy S II Plus is being updated while the
Samsung Galaxy S III
and the
Samsung GALAXY Note II
stick at Android 4.1.2 globally.
So what would prompt the Korean based manufacturer to do things backwards? One theory is that by updating the less popular Samsung Galaxy S II Plus first, Samsung could conduct something like the
soak test
used by Motorola before an update is widely disseminated. By testing Android 4.2.2 on the older device, Samsung could check for bugs while putting fewer handsets at risk. This way, if there is a problem, it is easier to get a hold of the situation and take appropriate action.
Another fascinating rumor is that the reason for the lack of an Android 4.2.2 update for the Samsung Galaxy S III and Samsung GALAXY Note II is because Samsung is going to skip that build of the Android OS for those two devices and is going straight to Android 4.3. Since
Android 4.3 was launched by Google last week
, there could be some truth to this rumor. Additionally, Australian carrier
Telstra has said that Samsung is indeed skipping Android 4.2.2. for the Samsung GALAXY Note II to go straight to Android 4.3
.
So what about the Samsung Galaxy S II? Apparently, at two years of age (that's 150 human years) it could be the end of the road for the phone. Meanwhile, the German Galaxy S II Plus update will include lockscreen widgets, the Daydream screensaver and a few performance improvements. Some Samsung Galaxy S4 features are being tossed in to keep the phone feeling young. German owners of the device can connect their phone to a PC and grab the update from Samsung Kies. The update is expected to hit the Samsung Galaxy S II Plus in other countries soon.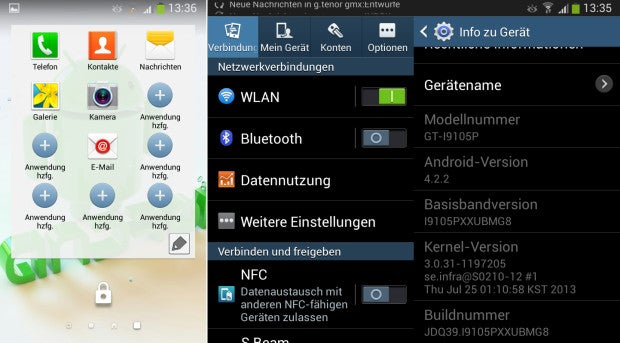 Android 4.2.2 is coming to the Samsung Galaxy S II Plus
source:
AndroidAuthority