German court upholds ban on push notifications in iCloud and MobileMe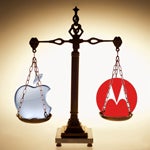 Motorola scored a couple of victories against Apple today as the
mobile patent wars
continue unabated. The most clear-cut victory for Motorola was the courts rejection of Apple's challenge to their
injunction of push-notifications
in iCloud and MobileMe. With the injunction being upheld German customers will be without iCloud and MobileMe push email for some time. Apple was also ordered to pay an unspecified amount of damages to Motorola.
In the meantime, Apple's support pages now provide advice on how to set up manual email deliver on your iOS device, starting out:
Due to recent patent litigation by Motorola Mobility, iCloud and MobileMe users are currently unable to have iCloud and MobileMe email pushed to their iOS devices while located within the borders of Germany.

Affected customers will still receive iCloud and MobileMe email, but new messages will be downloaded to their devices when the Mail app is opened, or when their device periodically fetches new messages as configured in iOS Settings. Push email service on desktop computers, laptop computers, and the web is unaffected, as is service from other providers such as Microsoft Exchange ActiveSync.
Apple wasn't content to simply explain the situation to customers, adding a final dig:
"Apple believes Motorola's patent is invalid and is appealing the decision."
Of course companies
never think
that patents being asserted against them are valid, and they always think their own patents
are valid
, so Apple's opinion here is what you would expect from any company handed the short end of the legal stick.
If you are affected by this ruling and need step-by-step instructions on how to enable email retrieval from Apple's cloud services, hit up the source link below to get some non-push email action on your iPhone.
source:
Apple Support
;
WSJ