Apple's legal woes continue, Motorola gets to enforce its push notification injunction
34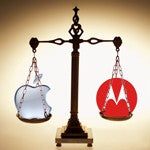 The knocks just keep on coming for Apple's German legal endeavors. After this morning's
dual rulings
against the validity of
certain Apple patents
, we have just learned that a German appellate court has ruled in Motorola's favor in yet another case,
allowing them to maintain an injunction against Apple's use of push notifications in iCloud and Mobile Me for the remainders of the appeals process
. That process generally lasts a year or more, providing Motorola with some ongoing leverage as they negotiate patent licensing agreements behind closed doors.
Unlike the FRAND-related patent that was ruled inappropriate for an injunction during the appeals process, Motorola's push notification patent is not a part of any standards requirement. After hearing from both sides, the German court was apparently not convinced that Apple has a sufficient likelihood of overturning the push notification ruling on appeal, so they ruled that justice would best be served by allowing the injunction to be enforced as the appeals process drags on.
We don't expect this one win to be enough to get Apple to settle its lawsuits, but several of these sorts of victories would probably lead Apple to be more amenable to a
traditional cross-licensing agreement
with Android OEMs. Conversely, if Apple secures several victories they would see is as evidence that their patents are simply more valuable, and they would continue to expect large licensing fees and the right to deny or delay the implementation of some features Apple wants to keep to itself.
It turns out there is yet another ruling expected today in another case between Apple and Samsung, so Apple should still get a chance to bat .250 for the day.
source:
FOSS Patents